Old post share.
You can share this article freely. Tell your friends.
We use AFC grease from THK, a direct-acting bearing maker, for the grease of our ballpoint pen MechaSEA.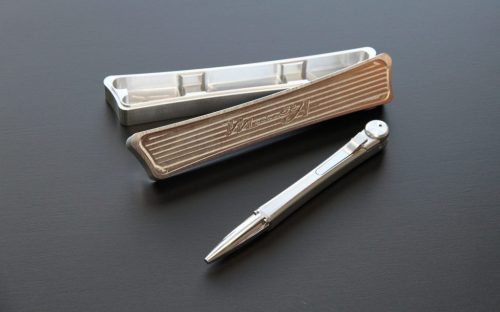 The operating temperature range of this grease is -54 ° C to 177 ° C.
This is a little too high grease which has excellent oxidation stability than regular grease.
But, we are using this.
Even if it is used for the movable part of the motorcycle, it should do a good job.
Anyway, this is the item that the bearing manufacturer tested.
The reason for adopting this is not only to be particular about performance, there are other reasons, and it is very practical.
The reasons for selection are as follows.
Because the operating temperature range of the replacement refill used for this ballpoint pen is from -35 ° C to 121 ° C, it covers that range.
It is highly durable than the grease of popular products.
This is the reason.
Because the ballpoint pen is small, the amount of use per one is a little.
Even though we use a little expensive grease, there is no effect on commodity price.
So we selected expensive ones.
And, in order to judge whether to adopt it, we carried out endurance test of 100,000 times each movable part.
The result was passed as planned, so we was able to adopt it.
We can not do durability test many times because development budget is very limited.
So, I think that it was a pretty good choice to have chosen grease that is likely to pass the exam at the first time.
I chose this without being too picky about the performance and sticking to the cost.
It is that I chose this as a result of taking into account limitations such as development budget and time required for durability tests.
Although it is a little overpriced grease.
The movable part of this pen moves like this.↑
Since this is a ballpoint pen, it is not a lot of load, so I think that there is probably no problem even if I use other grease.
But, as of now, this grease is the only thing we tested 100,000 times repeatedly.
So, anxious people should use AFC grease when grease up.
I will paste the THK catalog.
↓
418_LUBRICATION
Although it has not done durability test, it may be better to use this when using in a clean room.
Is it better to use this when using it in a medical field?
Araki F Machine seriously introduced technology and made it.
It's all made with cutting of the aluminum.
It's extremely mechanical ballpoint pen, MechaSEA.
Tap the image or jump to the sales page by clicking.↓↓↓