You can share this article freely. Tell your friends.
I did not know that there is such a thing!
Metallica's album "LOAD" (released in 1996)
There was an extra bonus on its Japan specification, the first press board.
It is Metallica learning notebook.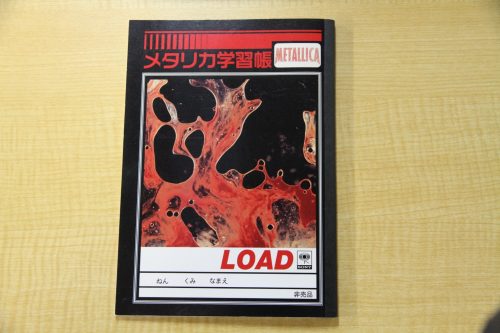 It is a Japonica learning notebook parody. It is a book that is popular among elementary school students in Japan.
Japonica is still popular in 2017.It is also sold in the Amazon. here
I was looking for something in Yahoo auction.
At that time, I happened to know the existence of Metallica learning notebook.
I was worried whether to buy it or not.
I bid for it at around 2,000 yen in a few days.
The content of the notebook is like this.
↓ ↓ ↓
I had been more intelligent if I had this note purchased at elementary school!
By the way, this song, battery is not in LOAD so please purchase separately Master of Puppets.
It is Araki Funky Machine ,inc. that is doing such a thing all the time.
Such a company seriously introduced technology and made it, Duralumin billet ballpoint pen "MechaSEA".
It sells with Amazon and Yahoo auction.
You can purchase from the following.
Tap the image or jump to the sales page by clicking.